John is taking a break from his relationship with another man (M). He meets a woman (W) and has a relationship with her. Confused – he enjoys her more than he anticipated – he goes back to his boyfriend for advice, and finds himself unable to choose between the woman and the man. M organises a Dinner Party to which he invites his father (F) as well as John and W.
That, in essence, is the plot of Cock, which I went to see at Chichester Festival Theatre this week. It's by Mike Bartlett, who also wrote Press for the BBC. It's a visceral, punchy play, deigned to give the impression of a cockfight. I found it fascinating in many ways, particularly in its depiction of someone – John – who is confused by his sexuality.
Kate Bassett, the Director, says it is a play about love. To me it is as much a play about labels. John is the only character in the play with a name. All the others have labels (or rather letters), though the label for M could have been G for Gay and for W it could be have been S for straight. The label for M could have been C for choice or commitment: he seems concerned to help John decide whether he is gay or bi-sexual, and perhaps wonders whether there is a deeper fear of commitment.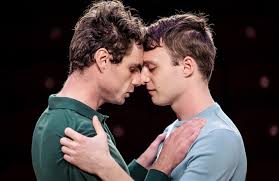 The play was written in 2007 but is ever more appropriate now in a world increasingly aware of gender fluidity and queer sexuality. Why is it that we seem so concerned to find neat boxes into which we can conveniently label ourselves?
John came out as gay in university. He recounts that his friends told him that "the real me was emerging, that I'd been repressed, and so I thought I must've done the right thing then." Having thought of himself as strictly gay since college and finding positive reinforcement and comfort in the label, the very foundations of his self-identification begin to shift at their core when he realizes his feelings for W encompass not only emotional attraction but at least some degree of the physical as well.
Thinking of John's 'coming out' as gay, I was struck by the similarities that many others may feel as coming out as Christian. 'Coming out' is often an intensely personal process – whether with a close set of friends or on a religious mission – with a sense of both freedom and new life in claiming a particular label or identity. In both cases, as time goes on, there may be a questioning of how closely that label fits. In my own case, I think of the time when I described myself as a Christian Atheist – believing strongly in the relevance of Christian teaching to daily life, but struggling with common and simplistic presentations of God. Accepting that paradox, that place in the margins, was critical to my spiritual development.
My advice to John? I'd refer him to Rilke's Letters to a Young Poet: "I beg you, to have patience with everything unresolved in your heart and to try to love the questions themselves as if they were locked rooms or books written in a very foreign language. Don't search for the answers, which could not be given to you now, because you would not be able to live them. And the point is to live everything. Live the questions now. Perhaps then, someday far in the future, you will gradually, without even noticing it, live your way into the answer."